CPD Webinar Series: Regional Environmental and Social Governance: Cybersecurity – The Critical Questions for Boards to Ask

ECSE-PBC Governance CPD Webinar Series
Cybersecurity – The Critical Questions for Boards to Ask
Summary/Purpose: Board members need to be conversant in a range of topics, making decisions that have wide-ranging impact for their organizations and the wider stakeholders. It is critical that they make informed decisions, and nowhere is this more important than the growing field of cyber security. Failing to address an organization's vulnerability to cyber-attacks can be catastrophic for an organization, resulting in lost productivity, probable regulatory fines, reputational damage, and significant loss of trust that will adversely impact future business growth. Regulators worldwide increasingly expect boards to oversee the IT infrastructure of their firms. A board that is not asking the right questions and insisting on evidence to get comfort from the Chief Information Officer or equivalent is derogating from their fiduciary duty. This session is designed to equip boards and those who work with them with an awareness and understanding of the importance of cyber security and the critical questions boards should ask to ensure proper oversight of this critical function to meet their governance accountability. Boards need to understand that the frequency and severity of attacks has never been so pronounced. It is no longer a case of IF your organization gets attacked but WHEN. Preparation is key.
Content: The session will cover the key questions boards need to ask management when assessing the organization's cyber security arrangements. We consider how the IT infrastructure should contain robust defences and protection against cyber-attacks; we identify the key questions directors should ask to exercise their governance and fiduciary duty in a proactive way, and importantly be conversant enough with the subject matter to understand the answers, understanding that the board cannot assume that management has it covered, and that when data leaks occur, scrutiny inevitably falls on the board. We will briefly look at the regulatory regime that highlights the increased expectations of regulators in this area; we assess the importance of having cyber security insurance whilst recognizing its limitations and how it is a poor substitute for diligent oversight. We also consider the emergence of Artificial Intelligence and how AI represents both an opportunity and a threat to organizations as AI enables the perpetration of more sophisticated and sustained cyber-attacks, and organizational leaders need to be ready for this new reality. We also recognize that the issue of cyber security, while it is not new, is much more urgent than 20 years ago and that an attack on one organization is an attack on the wider industry.
Outcomes and Benefits: Participants will walk away with a renewed perspective and motivation to review their company's cyber-security arrangements as well as a greater appreciation of their role in ensuring good governance. They will understand how technology and cyber-security form the foundation of the organization's assets and ability to create value, and so there is a need to take a proactive risk-based approach to oversight of this area. Most importantly, they will leave with useful tools and ideas for educating themselves to ask the right questions and understand the answers. In doing so, they can make informed decisions that will help avoid potentially catastrophic attacks on their IT infrastructure with the subsequent financial, legal, and reputational fallout.
Who Will Benefit by Attending: Corporate and board secretaries, board and committee chairs, individual directors, boards (as a collective), and any senior management team member or governance professional that is involved with sustainability and who interacts with the governance function and/or the board in their organization.
Registration Fees:
EC$295 (US$110) payable to the Eastern Caribbean Securities Exchange Ltd by Credit Card, Wire Transfer or Electronic Funds Transfer (EFT) on or before Friday 8 September 2023, to confirm participation.

Discounted Rate for ECSE Affiliates and CGIC Members – EC$270 (US$100)
(CGIC members must include their membership number to benefit from this discount)
Registration: The webinar will be delivered on September 13, 2023 at 9:00AM to 10:30AM UTC-4.
Click HERE to register
Your Facilitator: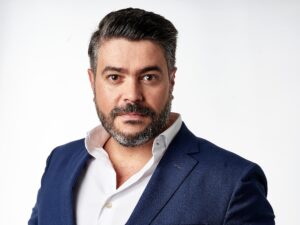 Mr. Bruno Soares
Senior Executive Advisor | Professor
Bruno is an experienced Information and Technology professional with over 20 years of experience in Audit, Consulting, and Advisory. He has expertise in Governance, Risk, Control, Audit, Information Security & Privacy, and Digital Transformation. He worked for KPMG and Deloitte and in 2012 he founded GOVaaS – Governance Advisors as-a-service, where he is currently Senior Executive Advisor, and he actively collaborates with an ecosystem of local and international partners, particularly IDC Portugal where since 2015 he is the Leading Executive Senior Advisor for Digital Transformation, Governance, Strategy, and Security related areas.

He is a certified PMP, CISA, CGEIT, CRISC, COBIT and a LEGO SERIOUS PLAY Facilitator. He teaches at various universities in Portugal and abroad and is the founder and president of the ISACA Lisbon Chapter. In 2019, he was awarded the ISACA John Kuyers Award for Best Speaker. In 2021, he ran for Mayor of Lisbon, Portugal.